Soprano-recorder (early-baroque)
after I.C.Denner,

a = 465, 440, 415, in boxwood or plumwood, other woods (grenadilla, ebony) on request.

Original fingering: The recorder has a range of two octaves with baroque-fingering,
little changements on fork-fingerings only.
Sound: brilliant and strong with an easy and quick respond.
This instrument is ideal for the early–baroque literature of the 17. century.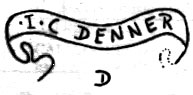 Johann Christoph Denner, Nürnberg (1655 – 1707)
This in traditional, renaissance-like form made recorder in plumwood is signed with the later stamp "I. C. Denner/ D " (scrolled).
On the foot-joint there is a stamp "I.D." (Johann Denner ?) and "Felbinger 1682".


Denner got his "Meister"certificat and with this the right to sign (?) his instruments only in 1697.
It seems that the 27-old I.C. Denner made this instrument 1682 as "piece-worker" for a "Meister" Felbinger who did not live in Nürnberg. (H. Heyde). It is unclear then, why the instrument is stamped DENNER.
May be he had the right to sign earlier and well as Hunt-lure and Horn-turner. Then "Felbinger" could be the name of the owner.
In any case this instrument has a revolutionary, because conical bore.
Johann Christoph was baptised the 3rd of Aug. 1655 at Leipzig and was burried the 26th of April 1707 at Nürnberg . His childhood he spent at Leipzig, where his parents moved between 1653 and 1654. With about 11 years he moved with his family back to Nürnberg and he learned with his father hunt-lure- and horn-turning.
Soon after his time as journeyman in 1680, he began making woodwind-instruments. (see the above mentioned recorder. Sinds 1694 he calls himself "Flötenmacher" (flute-maker) and receives , as mentioned , the "Meisterrecht" as a woodwindmaker.
Two of his sons, Jakob (1681) and Johann David (1691) continued their father's handicraft. Especially Jakob will become a celebrated woodwind-maker.
Johann Christoph is together with Johann Schell probabely the first in Germany making "französische Instrumenta". It is sure, that woodwinds (oboes, transversflutes and recorders) eith the new late-baroque mesure's are ment. Theses new constructions are attributed to Hotteterre's.
Already in 1694 Johann Christoph delivers to the "Nürnberger Rat" two "frantzesiche Fletten" or "Opera-Flöten". (French flutes or opera-flutes)
Johann Christoph is considered to be one the most outstanding maker of the 18th c. (E. Nikkel)



Lit.: Herbert Heyde "Historische Musikinstrumente im Bachhaus Eisenach, Eisenach 1976.
G.M. Klemisch, "Zur Bauweise der Blockflöte um 1700 und Möglichkeiten des Nachbaus," in SAIM, Beiheft 12, Michaelstein/Blankenburg, 1992, S. 47
Ekkehart Nikkel, "Der Holzblasinstrumentenbau in der Freien Reichsstadt Nürnberg", München 1971, ISBN 3-87397-008-2